Resource Library
Mobile Resource Library Tabs
Resources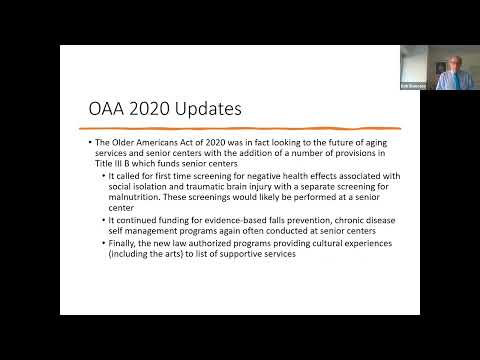 Senior Center Policy: Challenges and Recommendations
This is an up-to-date virtual discussion on senior center policy and serving older adults in our communities, presented in partnership with the Elder Justice Coalition. We provide an overview of challenges, strategies and recommendations on key issues faced by older adults who utilize senior center services.
Watch
By Bob Blancato, Melinda Forstey, Dabney Conwell, Abigail Carney | 04/29/2022
Managing a Loved One with Dementia's Sensory Challenges
Dementia can change a loved one's ability to experience these five senses, and that can have a huge impact on how they view the world. Their favorite food might not taste the same way. They may be startled by the sound of laughter they used to love. They may draw away from a once familiar touch. As a caregiver, it's important to recognize these changes, and to help make your loved one's world a more comfortable, less overwhelming place to be for each of their five senses. 
Read More
By Julie Hayes | 04/15/2022
How to Hold Family Meetings to Discuss an Older Loved One's Care
Family meetings can be a valuable tool. Each person can express their thoughts and concerns at the same time. Everyone will hear the same message and come together to support their parent and each other. This will help to reduce misinformation, and make it easier to develop a plan and next steps.
Read More
By Lauri Scharf | 04/15/2022
Cordell, A. (2022, March 14). Mealtime Changes That Can Benefit a Loved One with Dementia. Guideposts. https://www.guideposts.org/caregiving/family-caregiving/aging-parents/mealtime-changes-that-can-benefit-a-loved-one-with-dementia
Hayes, J. (2022, March 1). Helping an Older Loved One with Spring Cleaning [Blog]. Active Daily Living. https://www.activedailyliving.com/Caregiver/Article/2366