Resource Library
Mobile Resource Library Tabs
Content with Topic Financial Health and Wellness .
Resources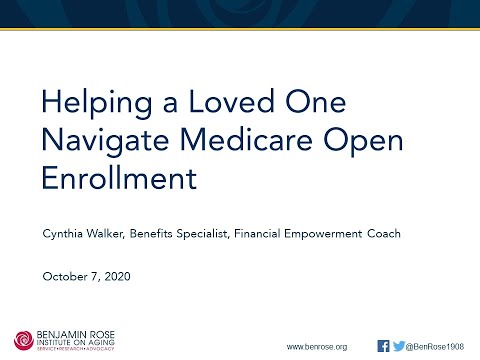 Helping a Loved One Navigate Medicare Open Enrollment
October 7 virtual program for caregivers from Benjamin Rose Institute on Aging.
Watch
By Cynthia Walker | 10/16/2020
What to Know for Medicare Open Enrollment
Every year, Medicare's Open Enrollment period runs from October 15 to December 7. As a caregiver, you undoubtedly know how important insurance coverage is to securing your loved one the affordable care they need when they need it. What can be less certain, however, is knowing which exact program and options your loved one is qualified for and would most benefit from. As much as you want to help them through the process of enrolling in Medicare, you may be struggling to understand it yourself. The good news is that by learning the various benefits covered by different plans, you can put yourself in a better position to care for your loved one's health needs and find the right plan for them.
Read More
By Cynthia Walker | 10/16/2020
Hayes, J. (2020, May 14). How to Protect Yourself and Your Loved One from Covid-19 Scams. Guideposts. https://www.guideposts.org/caregiving/family-caregiving/advice-for-caregivers/how-to-protect-yourself-and-your-loved-one-from-covid-19-scams
Financial Options for Renters and Homeowners Impacted by COVID-19
Every emergency requires a nuanced response, and the impacts of this pandemic, both short-term and long-term, are difficult to anticipate with certainty at this time. However, history demonstrates time and again that those that are most vulnerable even in times of economic and social stability generally suffer the greatest in times of turmoil. For those of us who are struggling to make our mortgage and rental payments, there are resources and up-to-date information available to help.
Read More
By Antoinette Smith | 07/15/2020
Recognizing COVID-19 Scams
As COVID-19 impacts lives around the world, we may feel vulnerable, confused and in need of information, whether on how to keep ourselves and loved ones safe, or how to help support the doctors and nurses who work tirelessly to save lives. Sadly, the uncertainty of the times has also given rise to people who seek to take advantage of this vulnerability and confusion through scams, misinformation and false promises of cures and treatments. Our older loved ones may be particularly vulnerable to these scams as well. According to the Federal Trade Commission (FTC), adults over the age of 60 lose money to scams at twice the rate of people between 20 and 59.
Read More
By Julie Hayes | 04/15/2020